Mothers of Love Breaking the Biases : Blog by: Suha Khuffash
In a small house in one of the most disadvantaged areas in the old city of Nablus city in Palestine, four women who are mothers of children with disabilities, decided to speak up and  say  "Enough is Enough!".   Upset by the bureaucratic system, and the unrealized disability laws, and driven by determination and willpower to improve the daily conditions of their children with disabilities; they decided to come together to confront the discrimination  and the stigma they and  in particular their daughters face  in a patriarchal society.
They embarked on a journey  to challenge  the stereotypes  and to ask for fair application of the disability laws in the country.    Supported by legal advisors, artists, and media specialists, the mothers succeeded in leading an advocacy and community organizing campaign, which they called "Mothers of Love".   Over three months, the core group of four mothers has expanded to include 50 mothers of children with disabilities from the city and  the nearby villages.  In few months the mothers also succeeded in securing free medical insurance at private medical centers for the severe cases, engage local community to support the transportation costs of the children  to and from  the rehabilitation centers, and to organize questioning sessions with  high level policy makers.
The campaign is expanding and the mothers' power is gradually contributing to breaking the biases against people with disabilities in Palestine.  #BREAKTHEBIAS.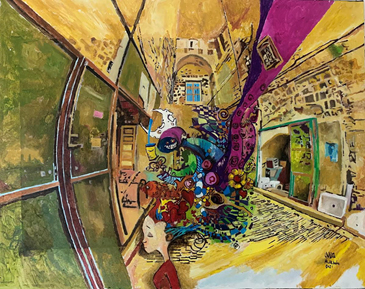 This painting titled  "Haya" by artist Alaa Al-Baba , represents the dreams, fears, stigma, isolation and the exclusion that Haya, an eleven years old girl with disability,  face when she goes out to the streets of her city. This art work, commissioned by a professional artist, has been selected by the mothers as a poster for their Mothers of Love campaign.
" Mothers Love" is an outcome of "Culture, Art and Social Engagement" (CASE) project , designed and implemented by Art to Heart Palestine 2021-2022, , and co-funded by the Swiss Agency for Development and Cooperation (SDC) and  A. M. Qattan Foundation. The project aims to promote social responsibility and participation through arts and culture, and intends to highlight the role of arts and culture as an effective tool for promoting social engagement, strengthening social cohesion and cultural identity, thus promoting freedom of expression and social accountability.